Art project about sacral menstruation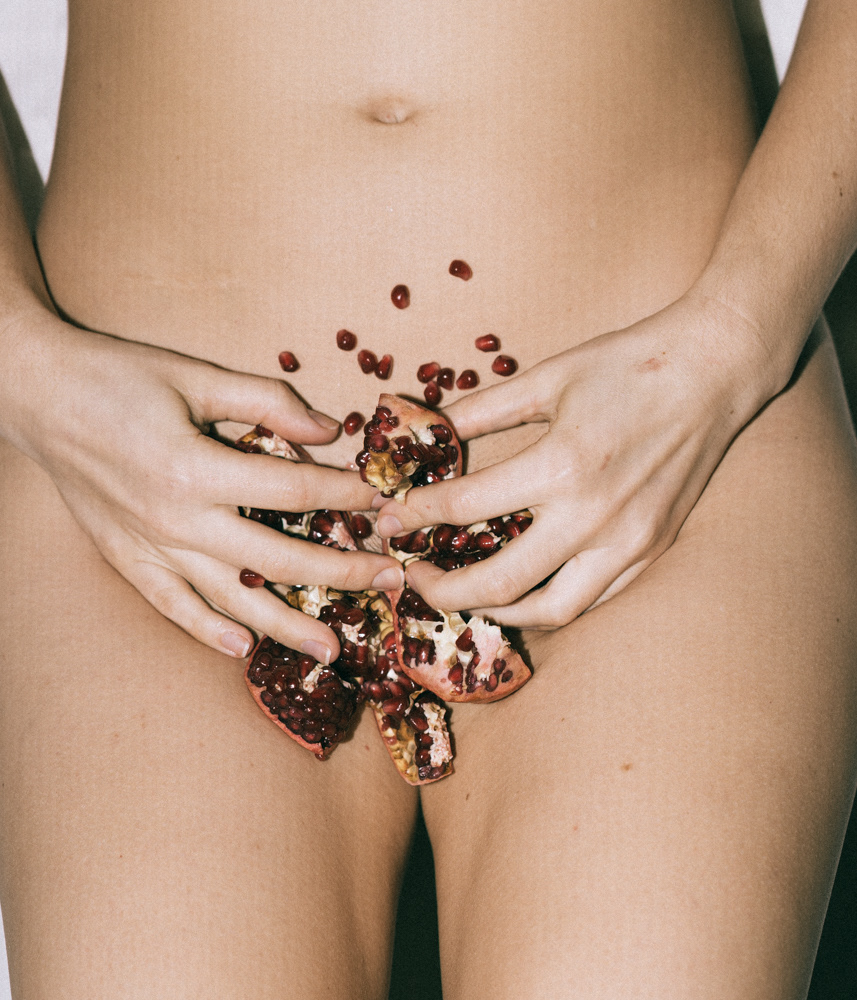 For many people, and especially women, menstruation associates with something embarrassing, messy, causing discomfort and interrupting everyday life. However, in its essence, menstruation is not only a completely natural process, but also a gift to every woman enabling them to experience over and over again the cycle of death and rebirth. Menstruation happens when 'a seed' (woman's egg) that had to become a new life was 'wasted'. And this, by no coincidence, reflects on woman's emotions, her body, and state of mind. In nature, it is fruit that contain seeds – the symbol of new life and fertility. Capturing fruit on women's body is a representation of what menstruation is all about - the fruitfulness, vitality, fertility – the qualities that represent immeasurable potential of every woman to bring life not only in the form of children, but also new projects, and ideas, family, career, and personal life. And even more importantly, it gives wisdom on how to let things that are no longer 'fruitful' die. This project is about acceptance of own cycle. It is meant to encourage every woman to look from a different angle to menstruation, and celebrate it, open door for getting to know yourself through the feminine body – allowing all emotions to flow, and letting in the inner change that each cycle brings.
Photographs will be presented to media, posted in public web gallery, exibition.  
•​​​​​ ​​Photo shoot will take place in appropriate/safe location (your or my home,  or we will find studio)
•​ Pictures will not display your face, only part of the body, as shown in example picture
•​ It takes about 15 min for single participant to take a photo
•​ Tasks for participant: You should choose your fruit, that defines your femininity, your menstrual cycle. You should close your eyes and try to feel and visualise your fruit. Maybe you will find it absolutely differently then that before. Trust your inner power
•​ Bring this fruit with you to photo shoot
•​ ​​​​​​​Would be nice if you share your story: how do you deal with your cycle (it would be written next to all stories without names). Example: when I started to live listening my cycle I can hear my intuition very well, my body what is good for him. Also it helped me in my career, relationship and in many other ways.​​​​​​​
• Every project participant (when it would be presented officially on social media) will get picture of her own (1 photo, ".jpg" file format, high resolution suitable for print)
• If you publish by your self this photo (in social media, website etc.) you agree to refer author by name and link to author website
• By participating in the project you give agreement to author to use photos that you appear in to publicly: exhibitions, books, magazines, social media, internet website etc.. All rights of the pictures taken during project belongs to author.